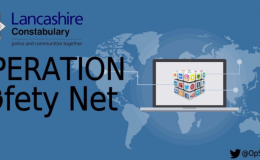 Opperation Safety Net– PC 3819 Claire-Louise van Deurs Goss
It came to Claire's attention that an alarming amount of children in Blackpool are becoming victims in their own homes. Claire attended a schools staff meeting and asked all the teachers in an Outstanding school, questions regarding children and the law, age limits and what constitutes indecent imagery; 2 out of 20 got the questions right.
Claire planned to set eyes on every single child, as a police officer, in uniform, inside their school… and all of their guardians. As quoted by Claire, "I wanted to help the children to know how to keep themselves and others safe online, by teaching them the law which surrounds them to protect themselves."
Claire set herself numerous of objectives;
I presented to all 31 Head Teachers at the Solaris centre in September 2017.
I asked them to invite me into their schools to educate their children (and their teachers at their request!) in the laws which surround them.
I told them I would provide each child and parent with advice and knowledge to use as a reference point
This would be aided by making a video, and producing a leaflet.
To work together in conjunction with children and teachers from primary to colleges to include all the children of Blackpool.
To meet and help every parent and carer in Blackpool to offer help and advice and to assist them with reinforcing their 'rules & boundaries' in the home.
I was linked by CI Wilson with Insp Oldfield and he used his knowledge of local colleges to assist me.
The question is, where is Safety Net now?
Blackpool Authority has 31 primary schools: Safety Net has been into more than 45 schools, because schools heard about the project, requested to join and this was granted.
Over 60 parent's evenings have been attended by CBM's, PCSO's, Specials and myself. Each school has one or two parent's evenings.
Blackpool has the following amounts of children in main stream schools:
Reception = 1620
Yr1 = 1680
Yr2 = 1650
Yr3 = 1681
Yr4 = 1604
Yr5 = 1647 Subjective to school a portion of these students have received an input
Yr6 = 1608- All will have had the Safety Net input.
TOTAL = 11490
No actual figures exist for parent/guardian numbers, using a 2:1, to include step families as well as extended family members, safety net has spoken on a 1:1 with approx. 24,000 adults between March & April 2018.
To show comparison Blackpool Facebook page has just over 29,000 'likes'.