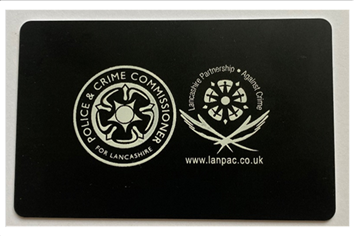 Your credit and debit card details are vulnerable and exposed to digital theft.
The growth of contactless cards has seen an increase in fraudulent payments. Scammers are using card readers to take up to £100 one off transactions with the wave and pay system.
Using sophisticated, compact skimming devices, thieves in close proximity can lift (or skim) your card details in seconds. Within minutes you're hacked, your identity is compromised, and your card details can be used to make unsolicited purchases. It's that easy.
Card defender diamond keep your cash and identity secure from digital pickpockets and fraudsters. The card Blocks the contactless feature of a card, prevents criminals from skimming details and they are extremely easy to use, just place the blocking cards alongside your contactless card, in your wallet, purse, or ID holder.
In partnership with the Police And Crime Commissioner, LANPAC have distributed over 300 Card Defender Diamonds across the county.
Disclaimer Crime prevention advice is given without the intention of creating a contract. Neither LANPAC nor the Police Service accepts legal responsibility for the advice given. Fire Prevention advice, Fire Safety Certificates conditions, Health & Safety Regulations and Safe Working Practices always take precedence over any Crime Prevention issue. Recommendations included in this email have been considered for a specific item and take into account information available to the Police.